This has by far been one of my favorite themes to do. Every girl wants to be a princess, so when this client called me and said to me that her daughter wanted a Disney Princesses party my heart skipped a beat. There are so many Disney Princesses so how do I ensure they all get equal treatment? Then the answer came to me: Ask the birthday girl as she surely has a favourite! After that everything else fell into place.
Rapunzel's dress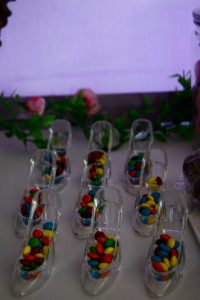 Cinderalla's slippers
Based on the birthday girl's choices the colour palette was light pink, lilac with gold accents. I chose not to have too much decor with the Disney Princesses images but rather to retell their stories in the different treats we chose to showcase, for example: Jasmines Jewels, Snow White's Not-so Poison Apples, Aurora's Fruits of the Forest, Cinderella's Slippers filled with candy, Sofia's Cake Pops and iced biscuits in the shape of some of the Princess Dresses.
The birthday princess's chair we dressed up with a tutu skirt at the head of the royal banquet table. Each princess received an organza bag filled with a bracelet with a crown emblem and lip balm with shea butter made by Melanie from MelonMia Girls.
Aurora inspired tutu dress
And what is a princess without a beautiful dress! So we called upon our fairy tutu godmother, Shelley Swart from Ezy Pzy Kidz Stuff and asked her to whip up a dress fit for Aurora and she delivered! The birthday princess loved her dress and could not stop swirling for all and sundry. As I am sure you all figured it out by now, Aurora is her favourite princess.
And how can we not mention this absolutely decadent two-tier, red velvet drip cake with cream cheese frosting, decorated with lilac drip chocolate, flowers and butterflies as well the mini photos of Disney princesses in gold gilded frames which was entirely edible! What a showstopper of a cake and enjoyed by all. The yummy iced biscuits, dipped marshmallows and cake pops were made by Ilhaam from Love Cakes.
Other decor and food elements all spoke to this royal theme fit for a princess. Every princess was treated to a bag of royal treats after the party.
The entertainment arranged was from one of our local companies, Enchanted Parties, who specialises in having either the owners or their assistants dressing up as per your theme and doing fun activities with the guests. The girls were treated to a magic show, facepainting, a treasure hunt and small keepsake items.
A huge thank you to all our suppliers who assisted in making this party memorable!!!!